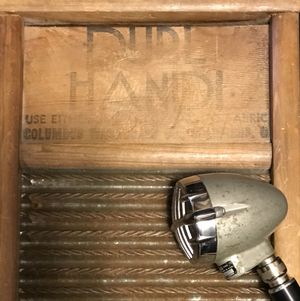 John Brauchler: electric & acoustic guitars, resonator, and banjo 
Paul Gallucci: vocals, harmonica, and guitar 
One Dime Band is a dynamic and talented acoustic duo who have crafted their unique sound and songwriting approach by blending influential styles of Blues, R&B and Soul. They have played in and around the Boston/New England area as a duo and as a 4-piece electric band for many years. 
  Paul and John's love of American Roots music started in New York State where they first met in High School, teaching each other Chuck Berry and Buddy Holly songs at the age of fifteen. The next year they formed their first band and began to incorporate Blues numbers into their repertoire. 
  Musical fate led them to Boston, MA in 1986. Their goal was to write and perform music professionally, so they formed a Blues band called The Roadhouse Sheiks, playing live extensively (even hosting a Blues jam at Jonathan Swift's in Brighton, MA) into the early nineties. The two eventually went on to pursue separate musical endeavors, ultimately reuniting as a duo in early 2000, focusing on acoustic Blues. 
  In June of 2017, after more than 2 years of writing, recording, and mixing, they released their debut album of twelve original songs, Gonna Take Sweet Time, on their own label, Toneblanket Records. 
   Hoodoo & Holy Water, their follow up album, was recorded at Woolly Mammoth Sound in Waltham, MA. Engineered and co-produced by Rob Ignazio, released in February of 2020, it received notable recognition, including Blues Music Fan Radio's Top 20 albums of the year and Blues Music and Metronome Magazine's Top 20 lists of 2020. 
  Winners of the 2022 Boston Blues Society Blues Challenge solo/duo category, One Dime Band performed in Memphis to competing in the 2023 Blues Foundation's International Blues Challenge. 
  CDs are available for purchase at live shows or as digital downloads on iTunes, Google Play, and Amazon MP3. You can also stream their music via Spotify, Tidal, Pandora and YouTube Music.